Promoted by BrazenBookshelf.com and all participating authors between September 21 – 25, 2018.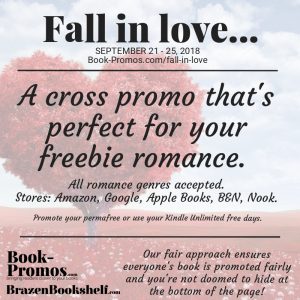 By participating in this promo, you are agreeing that you will share the promo graphic and link to your social media and/or newsletter at least once, per book/author submitted, when the promotion is live.
This five-day promo is intended to raise awareness of your books, your brand and is a great way to introduce a series to new readers. If you've recently went live, this is a great way to bring attention to your new presence!
The promo will be available on BrazenBookshelf for longer than these dates to allow late-comers to still find the promo, but there's no expectation that your book needs to remain free after September 25th.
Your Romance story will be actively promoted to tens of thousands of avid readers. Choose to promote your Kindle Unlimited story by using its 5-free days, or to promote a FREE / permafree book. Whichever you choose, the book must be available at $0.00.
This promotion is suitable only for Romance available on either Amazon, Apple Books, B&N, Nook, or Google books, although it does not have to be available on all platforms.
Our unique, fair approach ensures all authors involved reap the benefits of being on top of the pile as the promotion page will feature books equally, in rotation depending on the promotion section chosen.
Featured Book: Appear at the top of the promotion page, in rotation with any other featured books. A different featured book is shown as different readers view the page. As a featured book, your author name, book title and blurb will appear beside your book cover. Your book cover will also appear in a random position within the grid of all participating books.
An image of your book will appear in at least two of the solo newsletters (more, if space is available).
General Book: Your book cover will appear within grid of all participating books. Your position within the grid will rotate, ensuring that all books appear at the top of the grid as different readers view the page.
(Please note that any social media advertising for this promotion will only feature promo graphics and not just individual books. The promo graphics and link to share for readers will follow at a later date.)