An opportunity to develop build your newsletter subscribers by sharing your Reader Magnet with readers!
Promoted by BrazenBookshelf.com to our newsletter and also by all participating authors, this promo is intended to raise awareness of your books and build your newsletter by offering your free book. You can collect reader emails directly from those who download your book – ensuring you are getting a quality collection of readers who are actively interested in you!
This promo will run between March 16th – 19th, where it will be shared by BrazenBookshelf and all participating authors via newsletters and/or social media.
The promo will be available on the site for longer than these dates to allow late-comers to still find the promo, but there's no expectation that you need to keep your freebie available for any longer than the 19th March.
Your Romance Freebie actively promoted to tens of thousands of avid readers. Depending on your Instafreebie/Bookfunnel/Booksprout account, YOU can directly collect email addresses from readers who are downloading your reader magnet.
This promotion is suitable only for ROMANCE available on Instafreebie, Bookfunnel or Booksprout.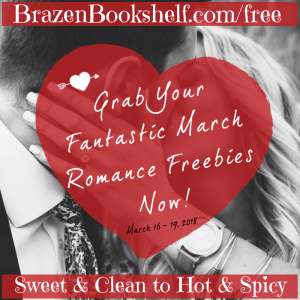 Featured Book: Appear at the top of the page, in rotation with any other featured books. A different featured book is shown as different readers view the page. As a featured book, your author name, book title and blurb will appear beside your book cover. Your book cover will also appear in a random position within the grid of all participating books. *Book must be available for FREE to readers*
General Book: Your book cover will appear within grid of all participating books. Your position within the grid will rotate, ensuring that all books appear at the top of the grid as different readers view the page. *Book must be available for FREE to readers*