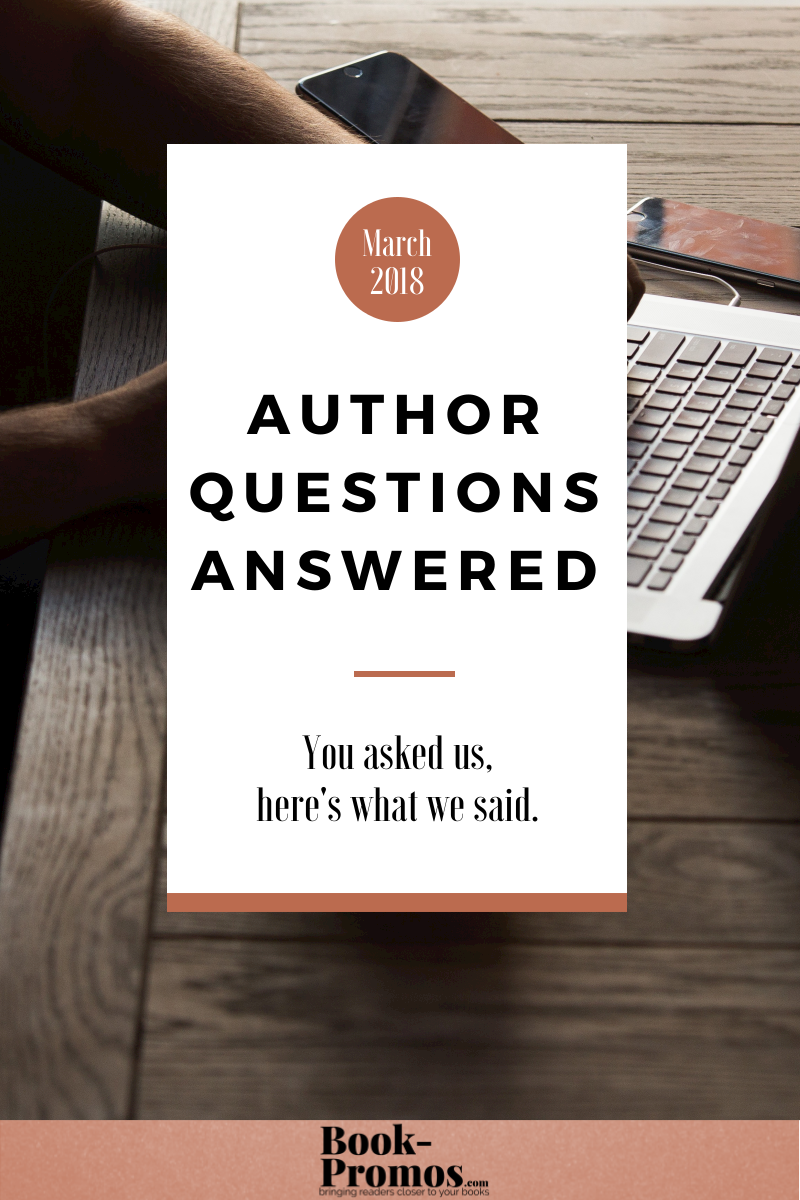 Since our first promotion in 2016, we've had various questions sent to us by authors. Most of these relate to how we operate and general information about us, but sometimes we're asked other questions too.
We figured that if one person's asking us something then there might be others who want to know the same information too. So we've decided to start posting some of the questions we recieve and answering them right here for you to read.
Let's start off by saying, as you'll already know, YOUR books and YOUR business are YOURS. The views and opinions we express are just that – our views and opinions. We're not business advisors and don't claim to be book writing gurus either, rather, let us share our thoughts and use the (or not) to come to your own decisions for your business.
What type of books does BrazenBookshelf see the most clicks on?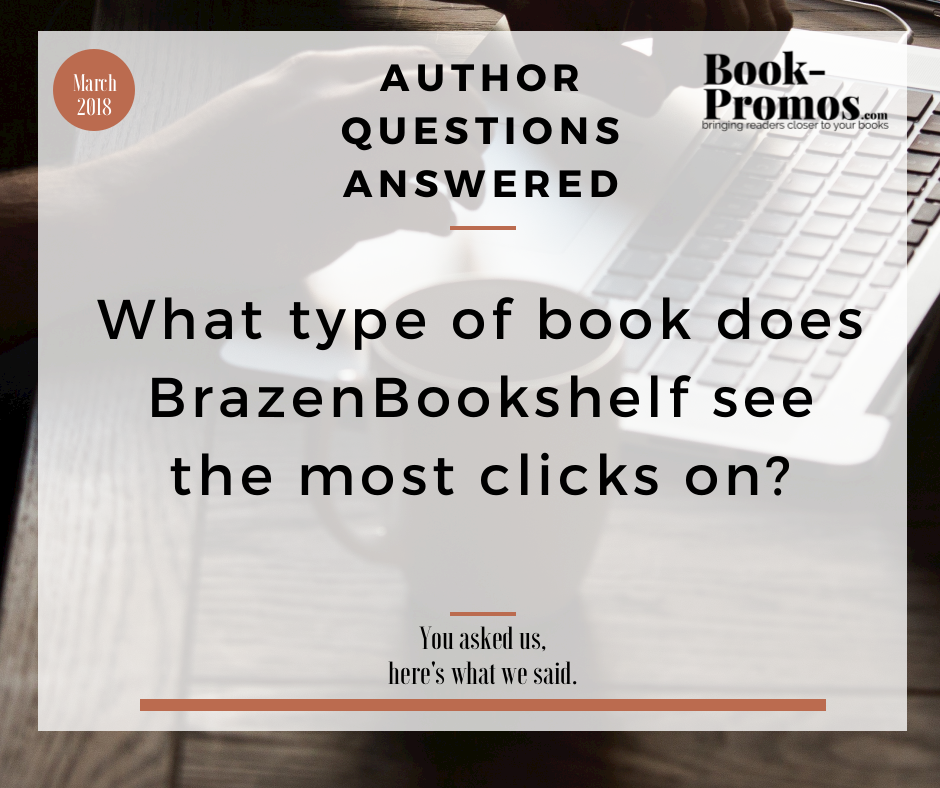 This is a very subjective one. BrazenBookshelf is a romance-based newsletter. A short, current answer would be to say that Reverse Harem Romance books are very popular with our romance readers right now. But that answer doesn't help as trope popularity comes and goes. A better answer would look like this:
The general newsletter features all kinds of romance sub-genres and heat levels but the books that see the highest click rates have two things in common:
A cover that meets the expectations of that particular romance genre or tropes;
A blurb that doesn't just outline what happens in the book, but rather gives a glimpse of the feel of the book.
The sad fact is that whilst the adage says, "Never judge a book by its cover," this is exactly what readers will do when looking for their next romance read. A book's cover image can really, really impact on the book's click performance within a newsletter. Hitting the right tropes on the cover and not following them up with a solid blurb means that readers, whilst clicking on your cover, are still less likely to click the buy button.
The Romance sub-genre Newsletters will get higher clicks on the books that look most like what that sub-genre enjoy. For example, our PNR (Paranormal Romance) list will far prefer a book that matches that sub-genre's expectations than a book that appears to be more of a contemporary, bad-boy romance, for example. The PNR expectations of what a book cover are very different, as are their expectations from what a blurb would look like. Learn what the readers of your sub-genre and tropes expect. In fact, just compare the covers/blurbs from the Contemporary Romance Bestsellers with the Paranormal Romance Bestsellers category. Colors, fonts, titles, number of characters on the cover, man-chests, special effects all make a difference. This is the biggest reason why a good cover artist is worth their weight in pure solid gold.
As for the blurb? Match the feeling created from the cover and the tropes the reader market are looking for and you'll stand a far better chance on being onto a winner.
Of course, there are outliers. Books that don't look like their genre, blurbs that don't fit the typical blurb for their genre / tropes. We'd safely bet that those books, however, are from very well established authors who have such a loyal fan base already that they'll one-click whatever the author releases.
I run my own author newsletter – do you have any tips on how to make it more interactive?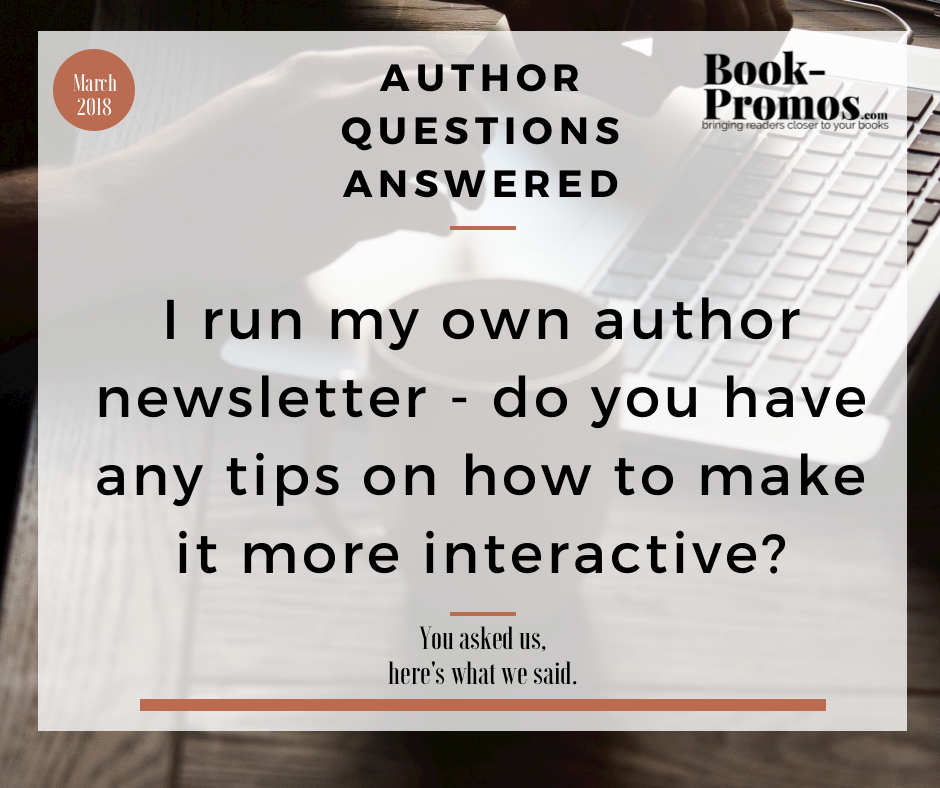 There are a few different suggestions we'd have for making your author newsletter more engaging. Firstly, we'd suggest deciding on how often you're going to send your newsletter and doing your best to stick to a typical routine. A typical routine may mean a once weekly/fortnightly/monthly/whatever newsletter when you're just keeping in contact with your readers with an additional newsletter(s) when you've a new release planned.
Think about your author brand, we'd suggest that you use the following suggestions only in a way that complements your brand. Doing something drastic that doesn't match with what readers have come to expect from your author brand can create a discord that can ultimately lead to an unsubscribe.
Here's a few suggestions we have for you:
Sneaky Peaks of an upcoming release: could either be a few paragraphs within the newsletter, linked to where the reader can find the extract on your website / social media post, or, even set up as a Reader Magnet, requiring the reader to give their email address. (Caution: please remember your KU obligations if/when you decide to put this book into Kindle Unlimited.)
Giveaways/Competitions: could be anything from giftcards to author swag. Perhaps a monthly giveaway of a signed paperback only to readers who are subscribed to your newsletter.
Name a character: ask for suggestions on character names or which character they'd like to see a book about next (because you are writing in a series, aren't you?).
Ask 'em!: If it fits your brand and is appropriate to the tone of your newsletter emails, then ask them their opinions on things. This could even be a poll. Also, give them the opportunity to reach you and ask YOU questions. This could be time consuming if you've a large list, but a fantastic way to develop human relationships with your readers.
Is offering a freebie from the backlist really a viable way of selling more books?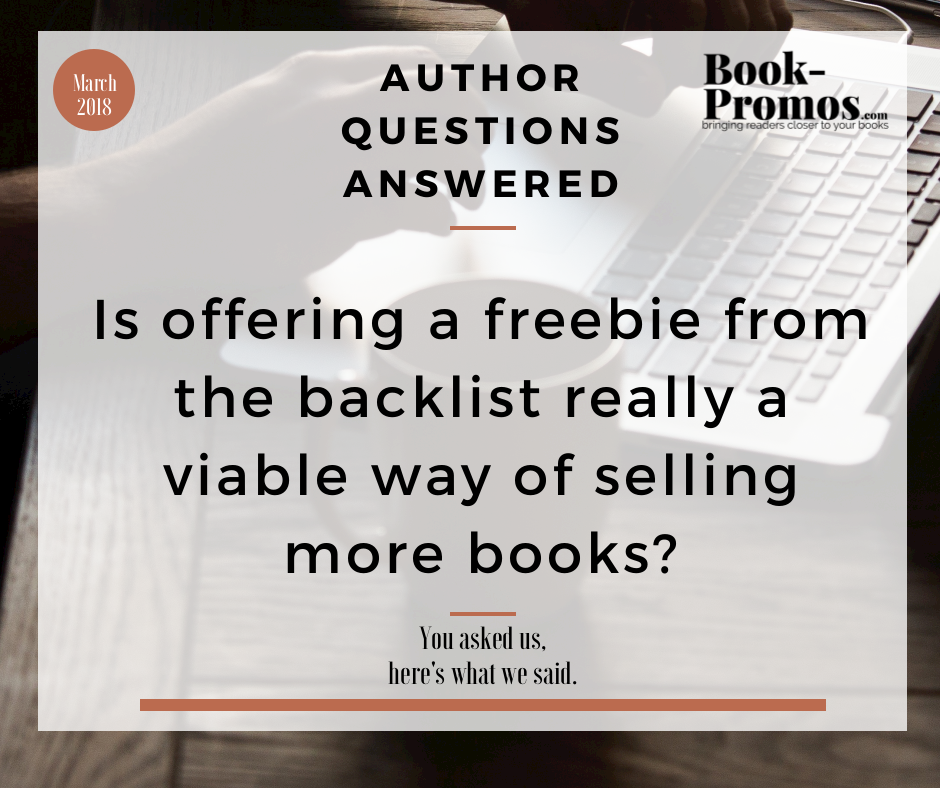 We believe so. Beth is an indie author herself, under a couple of different pen names. So she's going to answer this one:
I'm always looking to increase the amount of readers on my author newsletter. There are a number of ways of doing this: linking to your newsletter sign up page from within your books or on social media, but one of the most effective ways to get the attention of readers is with a "Reader Magnet". These are usually a free story that helps readers discover your stories and reel them into wanting to read more of your work.
Where's the money in giving something away for free? A fair question. The value comes from grabbing the attention of readers who, after reading your Reader Magnet, want to find out more about you and your books. Whether you're using Instafreebie or Bookfunnel to host your Reader Magnet, you should have your account set up to require the reader's email address in return for their download. This means that you collect reader emails directly and can open a conversation (your author newsletter) with these readers to develop a relationship with them – they will become your biggest allies (and biggest business asset) when it comes to announcing your next book is on sale.
What do I giveaway? A Reader Magnet is a book that you've written, with similar themes to the books you are selling. It lets readers try your style and genre of writing. The story itself certainly does not need to be (and I'd argue it shouldn't be) a 60,000 novel but it should still give the reader a positive experience. A short story or a novella, perhaps. If it's a sample, make sure that the reader knows this before starting it… otherwise (and I'm speaking from experience) you are likely to receive at least a few unhappy messages from readers.
Tip: Include links at the back of your Reader Magnet to your Amazon Author page or to particular books. The more seamless you make it for the reader to find your next book, the easier it will be for them to buy your next book.
Pro Tip: Use a link that you can redirect (for example, a Bit.ly link) so you can redirect where the link takes the reader when they click. This is a seamless way to update links should they need to change.
What are some platforms authors have used to distribute Reader Magnets?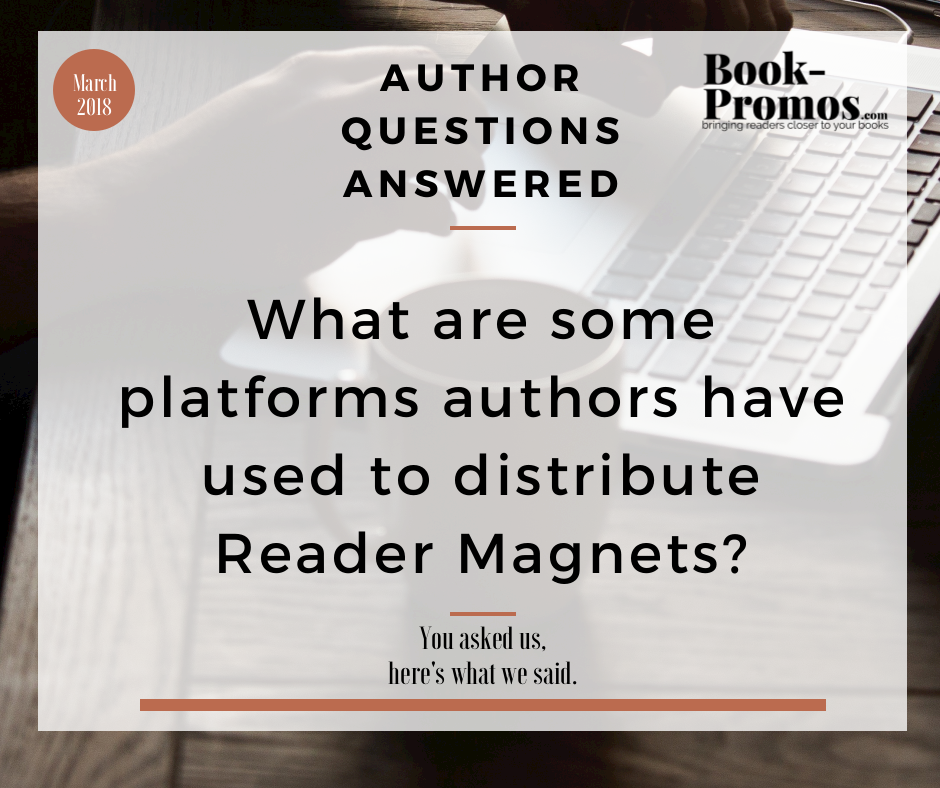 We've seen authors use a number of different platforms, the most basic (and one we'd not recommend) is to email a copy of the book to each reader who wants a copy. Perhaps a free way of doing it, yes, but this is one of those times that free does not equate to good. It's a major time suck and is setting your readers up with an unlikely expectation of instantly receiving their book and being disappointed when you haven't responded immediately to their request at 3am. There are other, more professional and automated ways to do it.
Use a service such as Instafreebie or Bookfunnel. Both these services have free options. The downside is that the free options only enable you to give the book away and you're unable to collect email addresses in return. The good news? Both have free trials which enable you to test their services (and collect reader emails) for an amount of time, then if you wish to continue, you pay. These can be stop/started too meaning you're not stuck paying for a service that you don't plan on using for two months.
There's nothing to stop you placing your Reader Magnet to be available on Amazon or other book sites. It would need to become a perma-free book for readers to get it. The only way we've ever heard of making a book perma-free on Amazon is by uploading it to other retailers too (e.g. GooglePlay, iTunes, Kobo, Nook, B&N), setting it at $0.00 on those sites and encouraging Amazon to price-match it.
There's nothing really stopping you from having your Reader Magnet available on all those platforms simultaneously, except that you're not able to collect reader information from a perma-free on a retailer's site.
Whatever way you choose, make sure to always have links in the back of your Reader Magnet to where readers can buy your next book.
Next time we'll be discussing:
What promotion strategies have you seen work best for backlist material?
How do you get your subscribers to actually READ your reader magnet?
How often to promote a perma-free title?