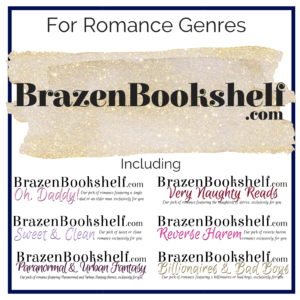 BrazenBookshelf.com Newsletters are perfect for romance books! We work hard to promote your books and introduce your stories to a new audience.
We're extremely proud to be bring romance to avid readers since 2016.
Our readers love all types of romance, erom and some erotica, so if that's what you write, then make sure to check out our promotions – our readers should know about your books! Our BrazenBookshelf.com newsletters are sent to romance-hungry, avid readers who have signed up to recieve our emails. These folk are primarily women who are US-based, however we have male and female readers from all around the globe.
In order to ensure a positive reader experience (which is what we all want), we only accept links from the following: Amazon, Google, iTunes, B&N, Nook, and Kobo.
Our BrazenBookshelf.com promos fall into two main categories: Newsletters and Cross Promotions.
Find out more about BrazenBookshelf.com here.
BrazenBookshelf.com Romance Newsletters
Options available:
BrazenBookshelf General Newsletters
These come in two variations: Solos and Multi Author Newsletters. Obviously the Solos mean that you're the only book within the newsletter, however from time to time we may display a small ad at the bottom of the email for our own site. Multi Author Newsletters mean that more than one book will appear in the newsletter.
Placements available on Multi Author Newsletters are: Headliner, the first book on the newsletter email; Mid List, books that appear from second on the email to second last; Last on List, the final book shown on the newsletter. We may display a small ad(s) on these emails for our own site also.
Specialist Romance Newsletters
Your book will appear in a Solo Newsletter for readers who are interested in specific sub-genres of romance. From December 2017 these are:
PNR / Urban Fantasy Romance: Readers who enjoy Paranormal Romance and/or Urban Fantasy Romance
Billionaires/Bad Boys: Readers who enjoy reading romance based around Billionaires and/or Bad Boys
Oh, Daddy!: A list of readers who enjoy books about single fathers and/or older men
Very Naughty Reads: Our naughtiest list of readers who enjoy the most explicit romance, erom and erotica.
Reverse Harem Romance: Readers who enjoy reading reverse harem romance
Sweet and/or Clean Romance: Readers who enjoy reading sweet and/or clean romance (Only Sweet and/or Clean romance will be accepted, with a Heat Rating of 1 or 2.)
BrazenBookshelf.com Cross Promotions
Our Cross Promotions are fair, affordable and fun!
Each Cross Promotions features our special script that ensures your book will not be doomed to hide at the bottom of the page, as each reader visits the page, the book order rotates so everyone appears top of the list to gain maximum exposure.
These are a perfect way to build/boost your author newsletter, build up brand awareness and find new readers. The very idea of a cross promotion is to help each author's work be found and read by more people, ultimately leading to more fans who, in turn, will want to buy your next book. This is why we strongly encourage you to have an appropriate Bookfunnel / Instafreebie plan for your Reader Magnet (free books) to collect reader emails directly.
We'll create the promo graphics, host everything and co-ordinate with all participating authors to ensure that everyone does take part. (Authors who fail to share with their newsletter/social media during the expected times are first to have their books removed from the promo once it's officially over.) We'll also share the Cross Promo with our General Newsletter readers and our website's homepage.
Our Cross Promotions are often picked up by larger parties, Instafreebie, for example, who regularly share our Instafreebie Cross Promotions to their hundreds of thousands of readers. (If we are aware of a larger party's intention to share a cross promo, we will state this in the description.)