Welcome Authors!
We're very excited to bring you our brand new Author Services site, Book-Promos.com. BrazenBookshelf and GeektasticBooks have joined forces to make ordering promotional services quicker and a whole lot easier! We want to make finding out about our services as simple and intuitive as possible, meaning less time spent planning how to market your next book and more time butt-in-chair-writing.
Celebrating Independence (July 4th – 8th)
As the "summer slump" hits and readers aren't as active, we're putting together an event that will bring them running back to their kindles, ereaders, tablets or phones to get their reading fix again.
We're putting all romance genres front and centre, creating such a buzz that readers can't help but check out the books involved.
We've went with the theme of "Independence" for the promotion: running it around Independence Day and for books written by independently published authors.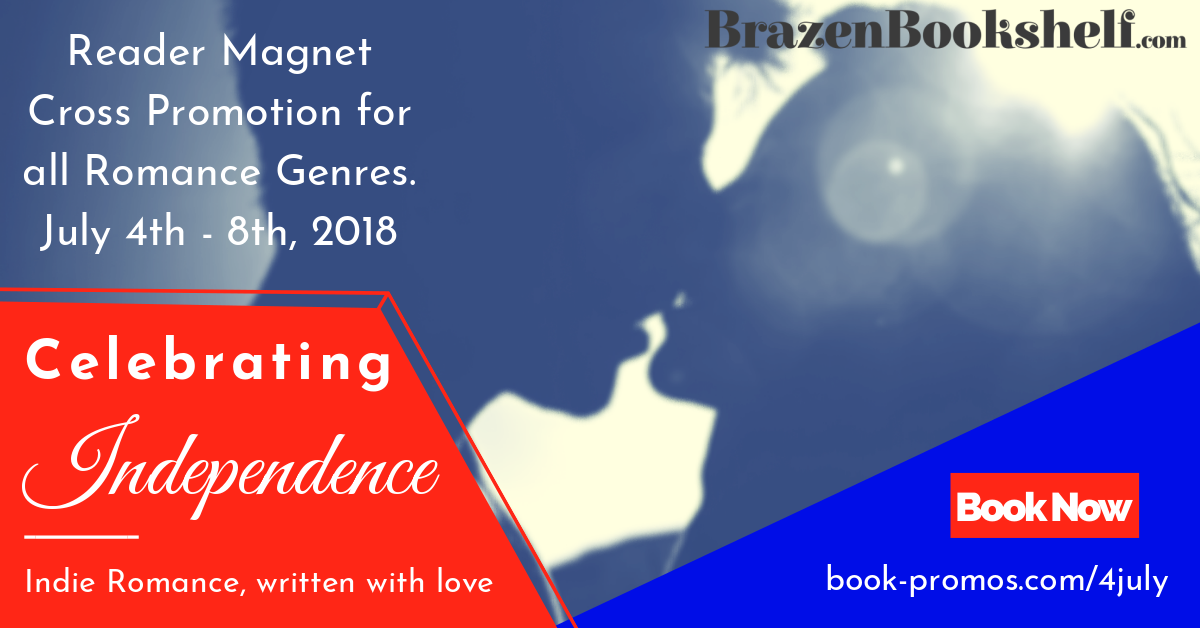 More Info here.
Promoted by BrazenBookshelf.com to our newsletter and also by all participating authors, this promo is intended to raise awareness of your books enable you to build your newsletter by offering your free book. You can collect reader emails directly from those who download your book – ensuring you are getting a quality collection of readers who are actively interested in you!
*Please Note: This Cross-Promo is only open to BookFunnel links. Samples are accepted provided they are clearly marked as such on their cover.*
This promo will run between July 4th to July 8th, 2018, where it will be shared by BrazenBookshelf and all participating authors via newsletters and/or social media.
Important Information: We're protective about our readers and their information. We don't collect and then redistribute their email addresses. Our Cross-Promos enable you to collect reader emails directly from those who want your book. (Which is why we advise that you set your Bookfunnel settings to collect these, making sure you are GDPR compliant.) That way you can be completely certain that the readers' emails you collect are genuine and not scrapped and shared. This ensures that our promotions only ever deliver readers who are actively interested in downloading your books.
LIVE: Urban Fantasy Romance Week 2018 (June 17th – 24th)
Promoted by both BrazenBookshelf and GeektasticBooks this week long promotion is a first for us as participating authors are not required to cross-promote.
This promotion is suitable only for Urban Fantasy Romance available on Amazon, iTunes, B&N, or Google books. You can choose to promote any priced book (including perma-free and discounted books).
Our unique, fair approach ensures all authors involved reap the benefits of being on top of the pile as the promotion page will feature books equally, in rotation depending on the promotion section chosen.
I want to book my promotions
Great! We currently have two promotional sites to choose from: BrazenBookshelf.com, which caters for Romance, ERom and some Erotica; and GeektasticBooks.com who are completely focused on Science Fiction and Fantasy genres.
Wanna be first to hear about new promos and save money on booking?
Scroll down and join our mailing list right now! You'll be sent a voucher code that will save you 20% on new bookings.
We're on the look out for authors who have worked with us before and would like to send a testimonial or review. Is this YOU? We'd LOVE to hear from you… just use the form below to say hello!
We really hope you'll find our new site easy to navigate and would love to hear any initial feedback or comments you may have. Why not send us a message below?

Late Bookings
Having trouble booking a promotion? In order to provide our best customer service, you'll need to contact us via admin@book-promos.com if you wish to book a promotion that goes live in less than 48 hours (this may vary slightly depending on your timezone compared to ours). We cannot guarantee spaces for late bookings, however we'll do our best to accommodate your book if the availablity is still there. Thank you!