Welcome Authors!
We're very excited to bring you our brand new Author Services site, Book-Promos.com. BrazenBookshelf and GeektasticBooks have joined forces to make ordering promotional services quicker and a whole lot easier! We want to make finding out about our services as simple and intuitive as possible, meaning less time spent planning how to market your next book and more time butt-in-chair-writing.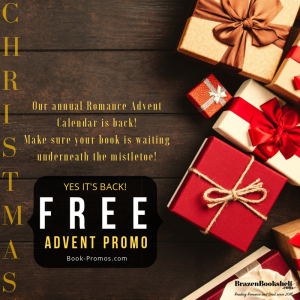 Helping readers to enjoy the festive season with a daily treat… something they actually want.
This year, we're continuing our tradition of and having our third Advent Calendar.
Be part of something special: our 2018 Advent Calendar. (With over 140,000 page views in 2016 and a massive 350,000 page views in December 2017, this is a promo you simply don't want to miss!)
Between December 1st until Christmas Eve, our readers will be eagerly checking their emails for something they're waiting for – their Advent Calendar treat for that day.
Depending on what you're aiming for, this is the perfect way to find new readers, improve reader awareness of your books, or give that permafree a boost.
This promotion is suitable only for ROMANCE, EROM and EROTICA genres.
There are three options to choose from starting from FREE! Get involved now!
I want to book my promotions
Great! We currently have two promotional sites to choose from: BrazenBookshelf.com, which caters for Romance, ERom and some Erotica; and GeektasticBooks.com who are completely focused on Science Fiction and Fantasy genres.
Wanna be first to hear about new promos and save money on booking?
Scroll down and join our mailing list right now! You'll be sent a voucher code that will save you 20% on new bookings.
We're on the look out for authors who have worked with us before and would like to send a testimonial or review.
Late Bookings
Having trouble booking a promotion? In order to provide our best customer service, you'll need to contact us via admin@book-promos.com if you wish to book a promotion that goes live in less than 48 hours (this may vary slightly depending on your timezone compared to ours). We cannot guarantee spaces for late bookings, however we'll do our best to accommodate your book if the availablity is still there. Thank you!